This is an archived article and the information in the article may be outdated. Please look at the time stamp on the story to see when it was last updated.
JURUPA VALLEY, Calif. (KTLA) — Dozens of dogs were rescued Thursday after workers found them abandoned inside a house where a woman had recently been evicted.
Most of the 30 Chihuahua-mix dogs were found in pens in the kitchen area.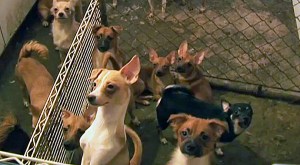 Other dogs, including a mother with a litter of puppies, were running free around the house.
Riverside Animal Services' officers rounded up the dogs and are now caring for them.
"Most of the dogs are young, 6 months to 2 years of age, and appear mostly to be Chihuahua mixes. Although some of them were very nervous, none of the dogs seemed aggressive," Sgt. Cynthia Lee said.
According to the shelter's Facebook page, "All of them now have gone through full veterinary examinations and are now in our protective custody bungalow at main shelter."
Under state law, the owner has 10 days to claim the pets or the shelter can put them up for adoption.
Animal Services' officials said the woman faced a kennel permit citation and citations for failing to have licenses for each of the dogs.
She also faced 30 citations for failing to vaccinate the dogs for rabies.
However, officials said no criminal charges were likely.
"Although the conditions were deplorable at this home, the dogs were provided shelter, food and water," Deputy Director Frank Corvino said.
To contact the shelter send an email to shelterinfo@rivcocha.org.