This is an archived article and the information in the article may be outdated. Please look at the time stamp on the story to see when it was last updated.
A former Los Angeles County Sheriff's deputy has been arrested on suspicion of murder in the stabbing death of his wife at their San Fernando home, while their two children were present, sheriff's officials confirmed.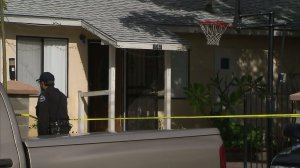 Jorge Casas, 37, was booked for the murder of his wife, Deseret Favila, the Los Angeles County Sheriff's Department reported on Friday.
San Fernando police responded to a home in the 1000 block of Griswold Avenue about 2:55 a.m. on Thursday after receiving a 911 call about a "possible assault," and found 33-year-old Favila suffering from stab wounds, according to a sheriff's department news release.
First responders began treatment on Favila, but she died at the scene, officials said.
Casas, who was identified as a possible suspect on Thursday and questioned by investigators, was later booked on a murder charge at the San Fernando Police Department, the sheriff's department reported.
He was being held on $2 million bail.
The couple's two children and other family members were home at the time of the deadly stabbing, but were not injured, sheriff's officials said.
The weapon used in the fatal incident was not recovered.
Casas was a member of Los Angeles County Sheriff's Department for two years before resigning for personal reasons in 2006, according to sheriff's Capt. Jeff Seroggin.
The investigation is ongoing, and anyone with information is asked to contact the sheriff's Homicide Bureau at 323-890-5500. Tips can also be left anonymously by calling Crime Stoppers at 800-222-8477, or by going to lacrimestoppers.org.