This is an archived article and the information in the article may be outdated. Please look at the time stamp on the story to see when it was last updated.
The combination of potentially record-breaking temperatures, Santa Ana winds and single-digit humidity forecast in Southern California for the week has prompted the National Weather Service to warn of "extreme fire danger."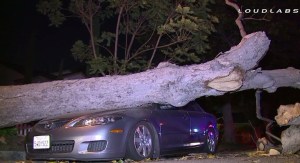 A Red Flag warning went into effect Sunday morning as warmer temperatures and gusty winds were expected throughout the day. The warning, issued throughout Southern California, was scheduled to expire at 8 p.m. on Monday, according to the weather service.
About 100 extra firefighters were on duty throughout Los Angeles County, mostly in Santa Clarita, Malibu and the foothill areas, said Battalion Chief Doug LaCount of the L.A. County Fire Department.
A wind advisory was also in effect for parts of the Southland, with moderate to strong winds forecast to hit across the region.
Powerful winds on Saturday night into Sunday morning were already being blamed for knocking trees over and downing power lines. A large tree fell on a car in Mar Vista, crushing the vehicle's windshield, video from the scene showed.
In Northridge, tree branches could be seen strewn across a residential street as strong winds hit the area in the overnight areas.
About 3,000 residents in Whittier and Cerritos were left without power at one point in the early morning hours because of the winds. Scattered outages were also reported in other areas, including in Rialto and La Canada Flintridge.
Beginning Sunday, hot and dry conditions were expected for much of Los Angeles and Ventura counties, forecasters said. The weather conditions were expected to last through Thursday.
Temperatures will peak between Tuesday and Thursday, with highs in the 90s to around 100 expected in the valley, inland coastal plain and foothill areas, according to the weather service.
Northeast winds with gusts between 40 and 55 mph were forecast through early Sunday afternoon in the valley and mountain areas of L.A. and Ventura counties.
"Stronger winds" could also be expected near coastal foothills and below passes and canyons in Orange and San Bernardino counties, as well as on the north slopes of the Riverside County mountains, the weather service stated.
Forecasters warned the weather system would bring "extended period of dangerous fire weather conditions" to much of the area through at least Thursday.
The Red Flag warning comes less than two weeks after similar weather conditions helped fuel the Etiwanda Fire, which burned 2,143 acres and forced the evacuation of some 1,700 homes near Rancho Cucamonga.