This is an archived article and the information in the article may be outdated. Please look at the time stamp on the story to see when it was last updated.
RIVERSIDE, Calif. (KTLA) — A Riverside high school football player who died after collapsing on the field was alive Thursday in the hearts of his family and teammates.
Thursday marked the first game at Arlington High since Tyler Lewellen's death Tuesday.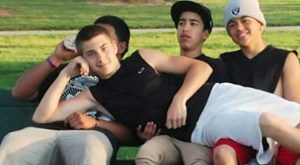 The 16-year-old collapsed after coming off the field during a scrimmage with Rubidoux High on Aug 22.
He began to have a seizure and lost consciousness, which he never regained, the Riverside Press-Enterprise reported.
On Thursday, his teammates played in his honor.
"He would've been proud of us for not giving up," Tyler's friend Raul Larios said.
The Lewellen family was also at the game to support a team that loved their son and a game their son lived to play.
"He loved football. We were just extremely lucky to have him as long as we did," Tyler's stepfather John York said.
His brother Marcus paid his brother the ultimate compliment.
"He had the heart of a lion. I want to be just like him," Marcus Lewellen said.