This is an archived article and the information in the article may be outdated. Please look at the time stamp on the story to see when it was last updated.
A concerned family helps a tortoise get out of a tight spot between boulders in Joshua Tree National Park, officials announced on Facebook Friday.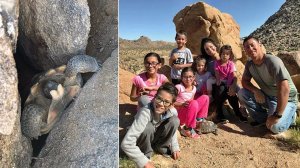 Elijah Romero spotted the tortoise and warned his sister not to step on it. His family took a few photos before realizing it was completely stuck.
"There was no way it could get out," Rebekah Romero said. "There wasn't enough earth under his legs to claw out and he was slanted in a position where he was almost on his back."
The family decided they couldn't leave it like that.
The family contacted park staff and wildlife biologist Kristen Lalumiere responded. She and Anthony Romero, the father, tried to move boulders to make more space for the tortoise to get free.
When that didn't work, Lalumiere retrieved a car-jack and, with Anthony's help, used it to move one boulder enough to slide the tortoise out so it was able to move on its own.
"We all shouted and were so excited," Rebekah said after the tortoise was free.
It is unknown how long the 30 to 35 year old tortoise was stuck, but Lalumiere said it would have died if it hadn't been for the actions of the Romero family.
"They did the right thing by reporting the tortoise, waiting for the wildlife biologist to respond, and then even aided in its rescue," the ranger said.