This is an archived article and the information in the article may be outdated. Please look at the time stamp on the story to see when it was last updated.
Family members, law enforcement and others mourned and remembered Aramazd "Piqui" Andressian Jr. at a private funeral service that was held in South Pasadena on Tuesday evening.
Local law enforcement personnel stood before the Holy Family Catholic Church as a teary-eyed Ana Estevez arrived at the service for her slain son, who was allegedly killed by his own father after the pair went to Disneyland in mid-April.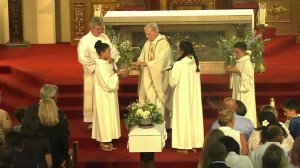 Estevez, carrying a white hat that belonged to her son, was escorted into the church by South Pasadena Police Chief Arthur Miller. She requested that local law enforcement attend the funeral as a show of gratitude for their work on the tragic case, police said.
During the funeral, Estevez mourned the loss of her son by telling of "an eternal shadow of devastation and emptiness" she has felt following his death. She told of her love for her son, who went by the beloved nickname "Piqui."
"I want the world to see what an amazing child you were to me, through my eyes," she said during the service.
"I miss you telling me, 'Mama, you look beautiful," Estevez said. "You are the love of my life, papa -- today, tomorrow and always."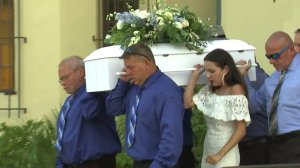 Estevez also thanked the law enforcement officials who searched for her son and investigated the case. The child's body was found near Lake Cachuma in Santa Barbara County on June 30, more than two months after Estevez reported him missing when her ex-failed to show up at a planned custody exchange.
"You are my heroes," she said, her voice choking. "Thank you for bringing my baby home."
During the service, L.A. County Sheriff Jim McDonnell spoke about how this case connected with him and so many others.
"He was only 5 years old, yet he made us all reflect on our own humanity, our vulnerabilities and our responsibility to help those in need," McDonnell said.
Andressian Jr. was first reported to the San Marino Police Department on April 22.
That morning, Aramazd Andressian Sr. -- the child's father -- was found unresponsive in Arroyo Park in South Pasadena. The two had gone to Disneyland just two days before, in what would be the last time the 5-year-old was publicly seen, authorities said.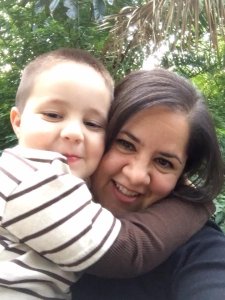 The boy's disappearance prompted searches of multiple areas, some involving more than 100 law enforcement personnel. Despite the intense efforts, search and rescue crews were initial unable to find the missing child, according to authorities.
While Andressian Sr. had been initially suspected and arrested in the case of his son's disappearance, he was released from South Pasadena jail pending further investigation.
About two months after the boy's disappearance, on June 23, his father was again arrested in Las Vegas and charged with his murder, authorities said. He has pleaded not guilty.
Just a week later, officials with the L.A. County Sheriff's Department  located the body of Andressian Jr. near Lake Cachuma. 
On Wednesday, a public memorial for Andressian Jr. will be held at the Los Angeles Arboretum in Arcadia. It is scheduled to begin at 7 p.m.