This is an archived article and the information in the article may be outdated. Please look at the time stamp on the story to see when it was last updated.
VALLEY GLEN, Calif. (KTLA) — Authorities announced a $50,000 reward Tuesday for the hit-and-run driver who killed a high school senior who was riding his bike.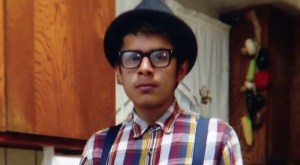 18-year-old David Granados was struck by an SUV around 6:30 p.m. on March 24 in Valley Glen.
According to investigators, Granados was riding southbound on the east side of Bellaire Avenue, crossing Oxnard Street.
A driver heading west on Oxnard Street hit Granados, throwing him from his bike and causing severe injuries.
Granados was rushed to a local hospital, where he died the next day.
The driver of the SUV did not stop to render aid.
So far, the investigation has revealed the suspect's car may have been a 2000 to 2004 Mercedes Benz M-Class SUV.
Granados was a senior at Grant High School, and he had just celebrated his 18th birthday.
"It's so inhumane how they didn't help a person," relatives told KTLA.
A memorial with flowers and candles remains at the scene of the accident, one month later.
Anyone with information about the incident is asked to contact LAPD Valley Traffic Division detectives at (818) 644-8063.