This is an archived article and the information in the article may be outdated. Please look at the time stamp on the story to see when it was last updated.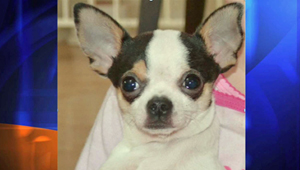 WILLOWBROOK, Calif. (KTLA) — A family is asking for help finding the dog snatchers who stole their dog at a Metro station over Thanksgiving weekend.
The family says that 'Pico,' a five-pound male  Chihuahua was taken at the Imperial-Willowbrook station.
Pico was in his carrying bag at the station when he was ripped from the arms of the family's nanny.
Police are currently reviewing security camera footage from the Metro station. Anyone with information is asked to call authorities.