This is an archived article and the information in the article may be outdated. Please look at the time stamp on the story to see when it was last updated.
The day after two former Fullerton police officers were acquitted of murder and manslaughter charges in the beating death of Kelly Thomas, his father said he supports a federal examination of the case while continuing to pursue a civil lawsuit.
The U.S. Justice Department plans to examine evidence and testimony in the closely watched case, Ron Thomas said he was told.
A Santa Ana jury on Monday found Manuel Ramos and Jay Cicinelli not guilty in the death of Kelly Thomas, 37, a homeless man who was fatally injured in an encounter with officers on July 5, 2011, at the Fullerton Transportation Center.
The FBI had opened an investigation into the case in 2011 to determine if Kelly Thomas' civil rights were violated. Now investigators planned to look at the court case "to determine if further investigation is warranted at the federal level," an FBI spokeswoman said Monday.
Thomas said he hopes the former officers will face federal charges of violating his son's civil rights.
"They should not be able to walk free," he said in an interview Tuesday morning. "My son was … fine before Ramos showed up. And just minutes later my son was brutally beaten to death. That's not right at all."
Ron Thomas said he had prepared himself "for the worst," so he was not shocked by Monday's verdict.
"It's never been done before – especially in Orange County – to find on-duty officers guilty of murder," he said. "But to have all counts dropped – they weren't even in violation of excessive force – that was just unimaginable to me."
In an afternoon news conference at the Los Angeles office of his attorney, Garo Mardirossian, Thomas said the family most wants to see the officers appear in federal court. Thomas said that until the verdict came down, he hadn't given much thought to a civil lawsuit he filed in 2012.
"It's not over. We still have several rounds to go," Thomas said. "I will not stop until we get justice for Kelly."
At the 40-minute news conference, Mardirossian played audio and surveillance video of the beating that had been shown to jurors and was at the center of the trial. The attorney noted the number of times that Thomas had apologized to officers, begged for his life and called for his father.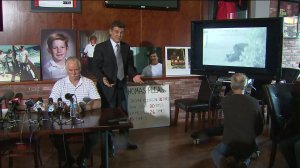 Mardirossian said he would require the officers to take the stand in a civil trial. Ramos and Cicinelli did not testify during the criminal proceedings.
"These ex-cops are ex-cops for a reason. They're no longer with the force; they should never be with another force because they're a danger to the public," Mardirossian said.
Asked in the interview earlier why he thought the defendants were acquitted despite evidence such as the recordings, Ron Thomas said, "the defense is under no obligation at all to tell the truth."
He noted there is no proof that his son has ever done drugs, despite defense claims that Kelly Thomas was a "chronic meth user."
"He's never failed a drug test in his life. But they were allowed to do that kind of thing," Ron Thomas said.
After the jury announced its verdict, attorney John D. Barnett, who represented Ramos, addressed the media outside the courtroom.
"These police officers were doing their jobs," Barnett said. "They were operating as they were trained and they had no malice in their hearts. They were not out to get somebody that night. They were working, and they did what they were trained to do, and they committed no crime."
Barnett was able to convince jurors of his client's innocence by being "very theatrical, very dramatic," Ron Thomas said.
Does Thomas agree with those who have criticized Orange County District Attorney Tony Rackauckas for prosecuting the case himself?
"There are probably other litigators that could've been more aggressive," he said. "I think Tony did the best job that he could, though."
At the news conference, Thomas said he had a bad feeling about the trial beginning with opening statements.
KTLA's Eric Spillman and Melissa Pamer contributed to this article.