This is an archived article and the information in the article may be outdated. Please look at the time stamp on the story to see when it was last updated.
A father of three who was stabbed to death after coming to the aid of a homeless man in Rancho Cucamonga was being remembered Tuesday as a hero by his friends and family.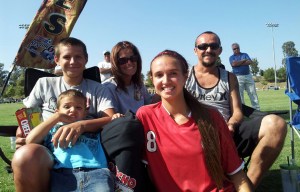 Donnie Reed died Sunday while trying to defend a homeless man from a group of people who were harassing him, according to friend and witness Lucky Hughes.
It happened across from the Stix Sports & Grill on Foothill Boulevard (map) around 2:25 a.m., according to a news release from the San Bernardino County Sheriff's Department.
Reed and his companions had just stepped outside when they heard a commotion across the street, Hughes said.
When the friends realized that a group of people were taunting a homeless man, Hughes said they ran over to help.
"They were getting closer to him and it looked like they were going to jump him," Hughes said.  "And me and Donnie pretty much agreed we weren't going to let that happen."
A confrontation between the two groups turned violent when a member of the group allegedly harassing the homeless man pulled a knife and stabbed Reed in the stomach, Hughes said.
Reed, 39, died at the hospital. One of his friends was also stabbed, but survived.
Authorities were still searching for the attackers.
Anyone with information was asked to contact Detective Daniel Hanke or Sgt. Trevis Newport, at 909-387-3589.
KTLA's Chris Wolfe and Anthony Kurzweil contributed to this story.