This is an archived article and the information in the article may be outdated. Please look at the time stamp on the story to see when it was last updated.
Eighteen current or former Los Angeles County sheriff's officials have been charged in connection with allegations of unjustified beatings of inmates and visitors to county jails, as well as a conspiracy to obstruct an FBI investigation into that alleged misconduct, federal officials announced Monday.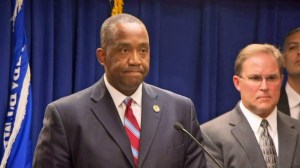 Four grand jury indictments and a criminal complaint were unveiled after 16 of the defendants were taken into custody Monday morning, most of them at Sheriff's Department facilities, authorities said.
The FBI's "wide-ranging" investigation was continuing into alleged corruption and civil rights abuses at downtown L.A. jail facilities, André Birotte Jr. , U.S. Attorney for the Central District of California, said at a news conference Monday afternoon.
He detailed accounts of defendants allegedly beating and unlawfully detaining inmates and visitors, then seeking to interfere with a civil rights probe.
"Unfortunately, the federal investigation found that these incidents did not take place in a vacuum," Birotte said, adding that some behavior had become "institutionalized."
The alleged scheme to obstruct justice showed deputies considered themselves "above the law," Birotte said.
Birotte detailed the five cases, two of which dealt with alleged improper detentions and civil rights abuses at jails. In one instance, the Austrian Consul General and her husband were improperly handcuffed and detained when they went to visit an Austrian national being held in jail, Birotte said.
In another case, a man who came to visit an inmate was allegedly assaulted by deputies, thrown in a refrigerator in an employee break room, then locked up for five days without being charged, Birotte said. The man was left permanently disabled due to his injuries.
The third case focused on an alleged conspiracy to impede the federal investigation into conduct at jails.
In that case, deputies are accused of moving an FBI informant into an isolated corner of the jail, telling him he had been abandoned by federal investigators, and faking records to show he had been released, Birotte said.
Also part of that case are allegations that two sheriff's sergeants intimidated and threatened an FBI special agent with arrest, later telling her supervisor that the agent's arrest was imminent.
The case further details a "misguided effort" to try to get a county Superior Court judge to force the FBI to provide information on the investigation and all federal investigators involved.
The fourth and fifth cases came about during the course of the investigation, Birotte said. One concerns a deputy accused of illegally possessing a modified assault rifle; the other focuses on three deputies, all brothers, who are accused in a criminal case of mortgage fraud.
Read court documents posted on LATimes.com.
Birotte stressed that the investigation was continuing.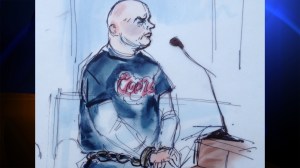 "It is always disappointing to see allegations of misconduct leveled against our law enforcement officers, the vast majority of whom serve us honorably and bravely each and every day," Birotte said.
He noted that 18 members of a 10,000-member department were facing charges.
"I don't want to cast a broad brush; I think it would be premature to do so," Birotte said. "But we do believe that the conduct that took place in this case, among some members of the department, had become part of the culture — that they thought they were above the law."
Sheriff Lee Baca and his staff have cooperated completely with the probe, FBI Assistant Director in Charge Bill Lewis said at the news conference.
In a statement issued Monday evening, Baca said the department "does not tolerate" deputy misconduct, saying sheriff's officials would continue to cooperate with the FBI.
"While the indictments were not unexpected, it is nevertheless a sad day for the Los Angeles County Sheriff's Department," Baca said. "Please know that I respect the criminal justice system. No one is above the law."