This is an archived article and the information in the article may be outdated. Please look at the time stamp on the story to see when it was last updated.
LOS ANGELES, Calif. (KTLA) — Police are asking for the public's help in identifying a bank robber dubbed the "Gone Plaid Bandit."
The most recent heist linked to the robber occurred Saturday, April 27 at a U.S. Bank in Larchmont.
According to the FBI, the suspect enters a bank, presents a demand note and states, "This is a robbery, this is not a fucking joke, I have a gun."
He also instructs the teller, "Just the $50's and $100's, no dye packs."
The suspect has never displayed a weapon.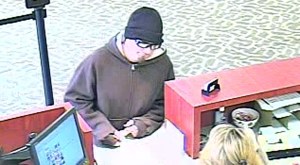 He is described as a thin white male in either his 20′s or 30′s.
He weights about 160 lbs and stands at about 5'6″ to 5'8″.
He has brown hair and has a "soul patch" on his chin.
No vehicle has been associated with the suspect.
In fact, in his last 3 robberies the "Gone Plaid Bandit" used a skateboard to approach and flee the bank.
He is among the FBI's Top 10 Most Wanted bank robbers in southern California.
Anyone with information is asked to contact the FBI Bank Robbery Apprehension Team at (714) 939-8699.