This is an archived article and the information in the article may be outdated. Please look at the time stamp on the story to see when it was last updated.
The owner of a downtown Los Angeles skyscraper has been cited by the federal government after an investigation discovered that light bulbs inside the building caused an interference with cell phone service.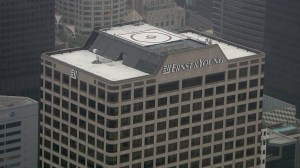 Some working in the 41-story Ernst & Young Plaza building at Figueroa and Seventh streets have complained of dropped calls, unsent text messages and cell phone data issues.
"I can't download anything," Patrick Gonsalves said, adding that he thought it was the concrete from the building that was causing the interference.
According to the Federal Communications Commission complaint, which was brought before the commission by Verizon Wireless, the actual reason for the poor cell phone service is the fluorescent light bulbs inside the building.
"I do a lot of work on my computer and on my laptop," Tim Morrisey said. "I use two computers at the same time, so it would be nice to be able to have both my computers running, and to also be able to receive cell phone calls from my clients."
An investigation began earlier this year after Verizon complained about the interference, according to the document.
"In response to Verizon Wireless' continuing complaints that the interference had not been resolved, agents from the Los Angeles Office used portable direction-finding
equipment and confirmed radio emissions on Verizon Wireless' licensed 700 MHz frequencies were emanating from ceiling fluorescent lights/ballasts inside the Building," the document stated.
Verizon customers have been the most affected by the interference, but customers of others cell phone providers have also felt the effects of the interference.
Consequently, the FCC has cited the building's owner — New York City-based Brookfield Office Properties – over the interference.
The government agency has given the owners 30 days to replace the General Electric bulbs in the building, or face a potentially significant fine, according to the complaint.
"Brookfield should take steps to come into compliance with the Rules, including eliminating the interference," the complaint read. "Brookfield is hereby on notice that if it subsequently engages in any conduct of the type described in this Citation, including any violation of Sections 18.111(b) or 18.115(a) of the Rules, it may be subject to civil and criminal penalties, including but not limited to substantial monetary fines."
GE has offered to exchange all of the bulbs inside the building, according to the FCC.
KTLA's Eric Spillman contributed to this report.