This is an archived article and the information in the article may be outdated. Please look at the time stamp on the story to see when it was last updated.
LOS ANGELES — The 9th Circuit Court of Appeals reaffirmed it is likely to be at least 25 days before gay marriages can resume in California.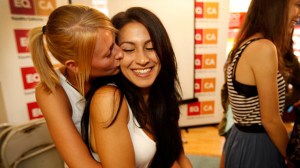 Just before noon Wednesday, California Atty. Gen. Kamala Harris urged the federal appeals court at a news conference to lift its stay on a 2010 lower court ruling declaring Proposition 8 to be unconstitutional.
The court's normal process is "to wait to be notified of the judgment by the clerk of the Supreme Court. That won't happen until the 25-day period expires. Once the judgment is received, the panel that decided the case will take action," David J. Madden, an appeals court official, told The Times.
Madden said the court had not received any legal paperwork from Harris asking them to expedite the process.
Click here to read the full story on LATimes.com.