This is an archived article and the information in the article may be outdated. Please look at the time stamp on the story to see when it was last updated.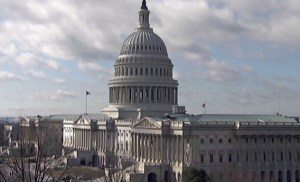 The U.S. government shutdown went into effect at 12:01 a.m. ET Tuesday after lawmakers in the House and the Senate could not agree on a spending bill to fund the government.
The two sides bickered and blamed for more than a week over Obamacare, the president's signature health care law. House Republicans insisted the spending bill include anti-Obamacare amendments. Senate Democrats were just as insistent that it didn't.
Federal employees who are deemed essential will continue working. But non-essential employees will be furloughed.  Most furloughed federal workers are supposed to be out of their offices within four hours of the start of business Tuesday.
Federal Shutdown: Who's Furloughed, What's Shut Down
President Barack Obama issued a statement early Tuesday to military members and Department of Defense employees about the outcome of the shutdown.  "Those of you in uniform will remain on your normal duty status," the president said. "Congress has passed, and I am signing into law, legislation to make sure you get your paychecks on time. And we'll continue working to address any impact this shutdown has on you and your families."
[protected-iframe id="d93cb4494270ef7a822f1320df839e2e-41641936-42155150″ info="//player.vimeo.com/video/75834646″ width="500″ height="281″ webkitallowfullscreen="" mozallowfullscreen="" allowfullscreen=""]
Click here to read the full story at cnn.com.