This is an archived article and the information in the article may be outdated. Please look at the time stamp on the story to see when it was last updated.
Four men were released from custody Monday after being arrested on suspicion of assault with a deadly weapon when a fight at a pro-Israel rally broke out the previous day. A Federal Protective Service officer was also placed on leave after discharging his weapon during the altercation.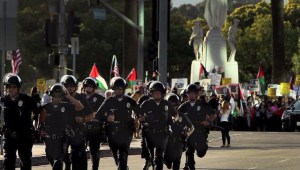 Demonstrators gathered outside the federal building in Westwood Sunday to express their support for Israel, which during the past week has launched airstrikes into the Gaza Strip in retaliation for rocket attacks by Hamas.
Cellphone video showed pro-Israel and pro-Palestinian demonstrators yelling at each one another as the rally was coming to an end at about 5:45 p.m.
"A verbal and physical altercation" then broke out between the occupants of two vehicles that were departing the area near the intersection of Wilshire Boulevard and Veteran Avenue (map), the Los Angeles County Sheriff's Department said in a news release.
Several people in one of the vehicles were assaulted by suspects in the second vehicle, the release said.
A Federal Protective Service officer fired a single shot after witnessing the assault, but no one was struck by the gunfire, according to authorities. Sheriff's detectives later responded to the scene to investigate the shooting.
Los Angeles police officers detained the suspects, four of whom were arrested. They were identified as 19-year-old Mostadafa Gamaleldin Hafez,  41-year-old Haddah Mustapha Kreidieh, 35-year-old Mohammed Said Elkhatib, and 38-year-old Fadi Ali Obeidallah.
The four men were booked for assault with a deadly weapon and released on $30,000 bond from the West Hollywood Sheriff's Station Monday morning.
As Elkhatib left the station, he said that a minor incident had been blown out of proportion and he felt that he was treated like a second-class citizen.
"We had no rights, they did not tell us why they booked us, they did not tell us why we were in handcuffs. They kept us until now. We were in handcuffs for 10 hours," Elkhatib said.
Elkhatib also said he was not part of a specific side during the demonstration, but stood for human rights.
"I guess you guys have surveillance and you have cameras and that will tell the truth," Elkhatib said.
Anyone with information was asked to call Lt. White of the sheriff's West Hollywood station at 310-855-8850.
The Sheriff's Department originally said Kreidieh's first name was Hassan.
More Video: