This is an archived article and the information in the article may be outdated. Please look at the time stamp on the story to see when it was last updated.
Three men were in custody Thursday after authorities discovered a elaborate tunnel under the U.S.-Mexico border and seized more than 8 tons of marijuana and 325 pounds of cocaine.
The length of nearly six football fields, the zig-zagging tunnel stretched from a  warehouse in Tijuana, Mexico, to a building in San Diego's Otay Mesa industrial park, according to a news release issued Thursday by U.S. Immigration and Customs Enforcement.
It was built by one of Mexico's most notorious criminal organizations, the Sinaloa cartel, U.S. Attorney Laura Duffy told reporters, according to CNN, which reported that officials were calling it a "super tunnel."
Equipped with lighting, ventilation and an electric rail system, the tunnel is the most sophisticated of its kind discovered in the last two years.
It's the eighth large-scale drug tunnel found in the San Diego area since 2006. In the last five years, more than 75 cross-border smuggling tunnels have been uncovered by federal investigators, most of them in California and Arizona, ICE stated in its news release.
The drugs found in connections with the tunnel — 17,292 pounds of marijuana and 325 pounds of cocaine — have an estimated street value of $12 million, according to ICE.
Authorities said the newly completed tunnel was not yet "fully operational."
It was shut down Wednesday night, when search warrants were executed at the Otay Mesa building and a second warehouse in Chula Vista.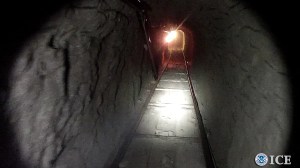 The marijuana was found inside both buildings and a box truck. The cocaine was found in a van seen leaving the Otay Mesa facility.
The three unnamed suspects are expected to face federal drug charges.
The arrests and seizures are part of an ongoing mulitagency federal investigation and the San Diego Tunnel Task Force.