This is an archived article and the information in the article may be outdated. Please look at the time stamp on the story to see when it was last updated.
The semiautomatic rifle used by a convicted felon in a gun battle with police off the 215 Freeway on Monday, killing CHP Officer Andre Moye and wounding two of his colleagues, was a "ghost gun" that cannot be traced by authorities, according to law enforcement sources.
Investigators have publicly described the gun used in the gun battle only as a rifle, but a law enforcement source with knowledge of the investigation told The Times that Aaron Luther used an "AR-15-style rifle" in the fatal gun battle. The sources spoke on condition of anonymity in order to discuss the case candidly.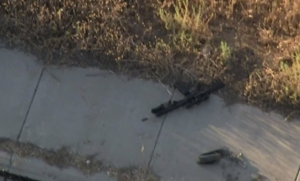 Ghost guns are unserialized weapons that are manufactured from parts that can be ordered through the mail or are machined parts acquired from underground makers.
The Bureau of Alcohol, Tobacco, Firearms and Explosives has been unable to trace the weapon used by Luther, two law enforcement sources with knowledge of the investigation said.
Read the full story on LATimes.com.