This is an archived article and the information in the article may be outdated. Please look at the time stamp on the story to see when it was last updated.
A veteran sheriff's deputy has filed suit against Los Angeles County, alleging she was sexually harassed, retaliated against and denied backup when she refused to submit to the demands of a "gang" of deputies at East Los Angeles Station who she said call themselves the "Banditos."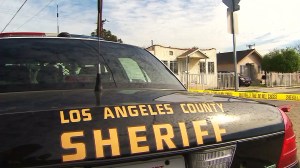 In a lawsuit filed this week, Deputy Guadalupe Lopez described what occurred when she transferred to the station in 2011, after nearly eight years of working at county jails.
"Plaintiff was made to understand that she was expected to be 'one of the girls,' which included drinking, partying and the fulfillment of the 'sexual needs' of her male training officers and their associates, including, but not limited to, the performance of oral sex," the 19-page complaint stated.
"Plaintiff was constantly asked if she wanted to 'party' with other male deputies," the complaint continued.
Lopez was told she was expected to "submit" to the program, and to call her training officer "Daddy." The same man was also known as "the 'Godfather' of East L.A.," the complaint states.
The lawsuit comes amid an ongoing federal probe of alleged wrongdoing in the Los Angeles County Sheriff's Department, particularly in county jails. In January, several weeks after 18 deputies and higher-ranking officials were charged in cases stemming from the FBI investigation, former Sheriff Lee Baca made a surprise announcement that he would step down following 15 years on the job.
In her lawsuit, Lopez, who has been with the department since 2003, described a "clique/gang" of about 80 deputies at East Los Angeles Station who earned their way into the "Banditos" by performing tasks. New members obtained a "numbered tattoo of a skeleton with a sombrero," the lawsuit stated.
In response to alleged entreaties and demands from the "Banditos," Lopez made clear she did not want to "party," and hoped to advance within the Los Angeles County Sheriff's Department, according to the suit.
Lopez has bachelor's and master's degrees and has completed her first year of law school, the complaint noted.
When she refused to participate in the "demeaning, ritualistic traditions and culture of the Banditos," Lopez was allegedly sexually harassed, slammed up against a wall while carrying a loaded shotgun, denied backup while on patrol and threatened, according to the lawsuit.
In March 2012, she filed paperwork with a superior stating she had been subject to threats, harassment and workplace violence.
After that, another deputy allegedly ran her off the road, a dead rat was left under her car and her tires were punctured, the complaint stated.
Treated for "a stress-induced pre-heart attack condition," Lopez was placed on medical leave. She eventually transferred on "loan" to Century Station in Lynwood, where she currently works, according to the complaint.
She was placed in the station's Youth Activity League, which the complaint described as a unit where problem deputies were housed and from where career advancement was impossible.
Lopez, who was being represented by attorney Gregory Smith of Beverly Hills, was seeking unspecified damages, health care costs and attorneys' fees. The suit was filed in Los Angeles Superior Court on Tuesday.
Sheriff John Scott, who took over department leadership on Jan. 30, said in a statement provided to KTLA on Friday that Lopez's allegations were first investigated two years ago.
"The Sheriff's Department conducted a comprehensive investigation resulting in appropriate administrative action for several employees," Scott said.
Lopez's lawsuit, however, included "new allegations the plaintiff never reported during an exhaustive investigation," Scott said.
The Sheriff's Department would conduct a "thorough investigation for the new claims" and would not provide formal comment in the meantime, the sheriff stated.
"As sheriff, I am concerned about the negative perception of monikers, tattoos, or any form of hazing and will not tolerate conduct contrary to our department policies and the law," Scott said. "Once this lawsuit is completed we will share our findings."