This is an archived article and the information in the article may be outdated. Please look at the time stamp on the story to see when it was last updated.
All lanes of the westbound 210 Freeway were reopened Tuesday morning around 7:30 a.m. after a fiery big-rig crash prompted authorities to close the road for several hours.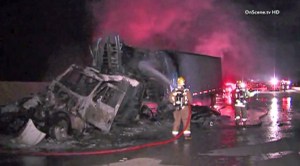 The collision happened around 12:03 a.m. near Lowell Avenue, according to the California Highway Patrol.
Two big-rigs collided causing one of the trucks to burst into flames, the CHP said.
The road was closed for several hours while authorities cleaned up the  mess.
One person suffered minor injuries, the CHP said.
The cause of the crash was under investigation.
https://twitter.com/CHPsouthern/status/412971065048969216