This is an archived article and the information in the article may be outdated. Please look at the time stamp on the story to see when it was last updated.
Flames and thick black smoke rose into the air after a train with tanker cars derailed in downtown Lynchburg in central Virginia on Wednesday afternoon.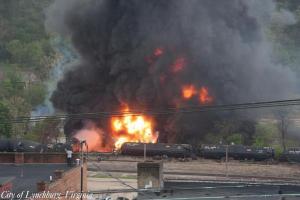 Lynchburg police advised motorists to keep away from the area and for nearby businesses to evacuate. Photos from the scene showed several black tanker cars on their side alongside the railroad tracks, but authorities did not immediately say what was inside the containers.
The derailment was along the James River near the Depot Grille restaurant, according to witness accounts on social media.
Philip Wilmarth felt the heat from the fire on the sixth floor of a building a couple of hundred yards away. He told the Los Angeles Times that he didn't hear an explosion, but he saw at least a handful of train cars off the tracks.
Click here to read the full story on LATimes.com.
Train derailment in lower basin. Watch live: http://t.co/wucMzZtps4 pic.twitter.com/JSfKIqda7G

— ABC 13 News – WSET (@ABC13News) April 30, 2014
https://twitter.com/GovtFool/statuses/461567741754105856