This is an archived article and the information in the article may be outdated. Please look at the time stamp on the story to see when it was last updated.
New Jersey Gov. Chris Christie called a fire raging through boardwalk buildings Thursday an "unthinkable situation" as firefighters continued to fight the high flames and black smoke in Seaside Park, New Jersey.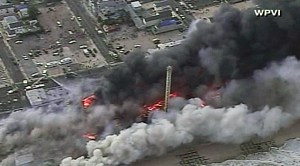 Christie said 35 engine companies, 15 ladders and 400 firefighters remained on the scene Thursday evening.
So far, about 20 businesses have been burned and damaged over six blocks. Some embers hit a condominium, but it was quickly put out, Christie said.
Several firefighters have sustained minor injuries, including heat exhaustion and smoke inhalation, Christie said.  The fire was still burning along Ocean Terrace Avenue between Stockton Avenue and Lincoln Avenue Thursday evening.
Click here to read the full story at CNN.com.