This is an archived article and the information in the article may be outdated. Please look at the time stamp on the story to see when it was last updated.
Mandatory evacuations were lifted for nearly 1,700 homes as the firefight continued Wednesday evening against a wind-driven brush fire burning near Rancho Cucamonga.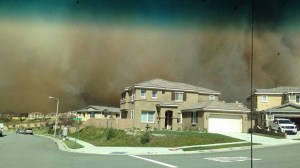 The wildfire, dubbed the Etiwanda Fire, was called in by residents at about 8 a.m. and soon spread south toward homes, prompted by wild Santa Ana winds. It came amid a spring heat wave and warnings about critical fire danger
It began in a "very remote" canyon area north of the city (map), said Mike Bell, chief of the Rancho Cucamonga Fire District.
Winds that gusted up to 70 mph prevented an aerial attack on the blaze, but firefighting aircraft were being kept on standby in Hemet and San Bernardino, according to John Miller of the U.S. Forest Service, which was part of a unified command with the Rancho Cucamonga agency and Cal Fire.
Firefighters' focus was on protecting lives and homes, so no containment figures were being reported, Miller said.
"This is a Santa Ana-driven fire and it's pushing down off the mountains at the community," Miller said.
Some 1,650 homes were evacuated in the morning, but that order was lifted just before 6 p.m., the Forest Service stated on Twitter.
Voluntary evacuations remained in place for residents north of Hillside Road between Haven and Hermosa avenues, according to an evening update from the city of Rancho Cucamonga. Just to the east, residents north of Banyan Street from Haven to Milliken avenues were subject to voluntary evacuations; that area includes Chaffey College.
The blaze has spread to 1,000 acres by afternoon, according to a Cal Fire.
As of 11 p.m. the blaze was zero-percent contained.
Firefighters initially had trouble accessing the blaze on the ground, according to Bell.
"We're actually staying out of the canyon due to the winds and the unpredictable nature of the fire," Bell said.
About 700 firefighters and law enforcement personnel were involved, according to a multiagency incident page.
The blaze came amid a high-wind warning for the region, with gusts expected to peak between 60 and 90 mph, according to the National Weather Service. The warning was in effect through 5 p.m. Thursday.
Santa Ana winds were predicted to blow through the area from the northeast toward the southwest, with a slight decrease on Wednesday evening, the weather service stated.
In much of Los Angeles County, just to the west of the area where the Etiwanda Fire was burning, a red flag warning was in effect through 8 p.m. Thursday.
Just a few miles from the Etiwanda Fire, an empty big rig was knocked on its side on the transition road from the southbound 15 Freeway to the eastbound 10 Freeway, according to the California Highway Patrol's traffic incident website. A SigAlert was issued at 9:41 a.m. and lanes had reopened by 12:30 p.m., Caltrans stated on Twitter.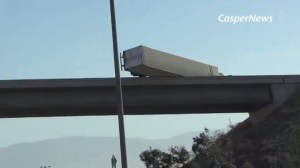 At one point, mandatory evacuations were ordered for areas north of Banyan Street and north of Wilson Avenue, according to the city of Rancho Cucamonga, which stated that 1,650 homes were affected by 2 p.m. Voluntary evacuations were in effect north of the 210 Freeway between Milliken and Etiwanda avenues.
Several streets were closed and some were open for limited access only.
An evacuation center was being set up at Central Park on Baseline Road and Milliken Avenue (map), according to the U.S. Forest Service.
Pets could be taken to the San Bernardino County Animal Shelter in Devore at 19777 Shelter Way (map).
School Closings
Day Creek Intermediate School, Caryn Elementary, Los Osos High School, John L. Golden Elementary School and Banyan Elementary were evacuated due to the fire. All of those campuses were set to be closed Thursday as well.
Students were released at the Chaffey College Rancho Cucamonga campus (map) as all classes were canceled for the day, according to a tweet from the college. The college was likewise set to remain closed Thursday.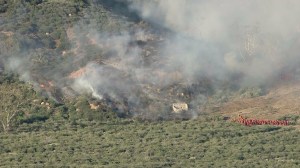 Meanwhile, to the west, the mountain areas of Chantry Flats, Bailey Canyon and Mount Wilson were closed due to high fire danger. The areas were expected to be reevaluated Thursday morning, according to the Los Angeles County Sheriff's Department.
Other school closings for Thursday included: Rancho Cucamonga High School, Alta Loma High School, Etiwanda High School, Banyan Elementary, Caryn Elementary, Golden Elementary, Day Creek Intermediate and Los Osos High School.
Information for Rancho Cucamonga residents was also available at CityofRC.us and by clicking on the "Alerts" button.
Recorded information about the fire was available by calling the Fire Info Center at 909-383-5688.
At least two commercial flights into Ontario had to divert to Los Angeles International Airport because of strong wind gusts, according to Jesse Romo, a manager at Ontario International Airport.
Although smoke could be seen over the airfield, it was not causing a problem at this point, Romo said.
The cause of the fire was under investigation.
KTLA's Melissa Pamer, Jennifer Thang and Justin Burton contributed to this story.