This is an archived article and the information in the article may be outdated. Please look at the time stamp on the story to see when it was last updated.
The back of a Granada Hills home was engulfed in flames as firefighters arrived Monday morning.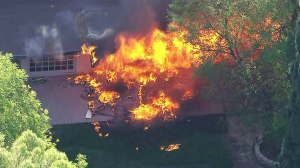 The fire was reported at about 8 a.m. in the 12000 block of Kenny Drive, according to Katherine Main of the Los Angeles Fire Department.
The blaze apparently started outside the single-story home and spread to the interior, Main said.
Arriving firefighters found the back of the home already on fire, according to main.
Aerial video from Sky5 showed firefighters attempting to cut holes in the roof of the home to provide ventilation.
Six fire trucks and two ambulances responded to the fire, according to Main.
Smoke and flames were being pushed by gusty 10 to 15 mph winds blowing through the area.
Wind advisories were in effect for much of Southern California Monday morning.
Firefighters extinguished the blaze in about 27 minutes and no injures were reported, according to Main. 
The cause of the fire was unknown.