This is an archived article and the information in the article may be outdated. Please look at the time stamp on the story to see when it was last updated.
A vacant strip mall in South Los Angeles went up in flames Tuesday night, with parts of it collapsing as firefighters battled the blaze, according to the Los Angeles County Fire Department.
The one-story commercial building in the Vermont Knolls district, located in the 1000 block of West 8th Street, was reported to be ablaze by 8 p.m. At about that time, county fire officials described "heavy fire" and smoke being visible on parts of the structure.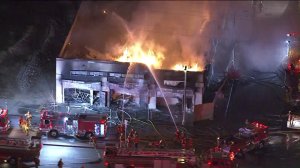 By 8:12 p.m., officials said the 67 firefighters at the scene were making "good progress" in controlling the flames. Thirty minutes later, officials said two more firefighters were at the scene as they continued using heavy streams of water to try putting it out.
By that time, around 8:45 p.m., the flames coming from the roof of the building all appeared to be out, as seen in Sky5 footage.
The strip mall contained divided up units that are all "boarded up," county fire officials said. Given those flimsy parts, firefighters were concerned about some walls being unstable so a "collapse zone" was placed around the building in case a wall falls through while firefighters are on the roof, officials said.
Arson investigators from the Fire Department were also responding to the scene.