This is an archived article and the information in the article may be outdated. Please look at the time stamp on the story to see when it was last updated.
As high temperatures persisted across the Southland, fire crews on Saturday continued to battle a wildfire that was burning in the foothills of the San Gabriel Mountains.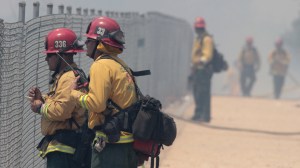 The Etiwanda Fire broke out Wednesday morning in a remote canyon above Rancho Cucamonga (map) and, aided by winds with gusts of up to 70 mph, quickly spread through the North Etiwanda Preserve and into the forest.
The fire was 2,190 acres and 86 percent contained, according to an 8 p.m. update from the U.S. Forest Service and Cal Fire.
"The fire stayed within the perimeter last night," another news release from the Forest Service stated. "Firefighters are mainly working in the foothills securing and strengthening line around the burn on the northern side. The southern portion of burn area surrounding the residential areas is not active and is no longer a threat."
The release noted that "active heat patches" continued to burn in the area.
Temperatures reaching up to 93 degrees were forecast in the area Saturday, though relative humidity was expected to increase to around 10 percent, according to the release. Winds of 10 mph were expected in the area, with gusts forecast to reach up to 20 miles per hour.
"There is little potential for additional fire growth, however with the continued warm temperatures and continued windy conditions, firefighters remain vigilant," the statement read.
Cooler temperatures and higher relative humidity were forecast for the start of the week.
More than 800 fire and law personnel were working on the Etiwanda Fire as of Saturday morning, according to the multiagency InciWeb page.
Since the fire broke out four days ago, three firefighters have sustained minor injuries battling the blaze, and one structure was damaged, the InciWeb page stated.
The cause of the fire remained under investigation.