This is an archived article and the information in the article may be outdated. Please look at the time stamp on the story to see when it was last updated.
Two firefighters injured while battling a blaze at a historic church near downtown Los Angeles were released from the hospital Wednesday.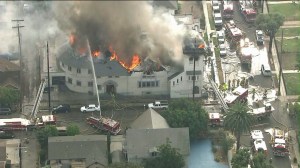 The two-alarm fire was reported at 9:27 a.m. Tuesday at the Crouch Memorial Church of God in Christ in the 1000 block of East 27th Street.
The building's roof collapsed with firefighters inside, Los Angeles Fire Department Battalion Chief Armando Hogan said.
"The fire was so big. It spread so fast," Pastor Lawrence Magee said.
The two-story wooden church was deemed a total loss after the fire, authorities said.
Two male firefighters were trapped when the roof collapsed, but only one was injured, according to fire Capt. Jaime Moore.
Another firefighter was reported injured just before 1 p.m., when he was one of those who remained on scene pouring water on hot-spots, Moore said.
That firefighter, also male, was taken to the hospital.
The cause of the fire was still under investigation, but it appeared to be an accident, according to L.A. fire spokesman Brian Humphrey.
Pastor Magee said it appeared to start from a wall heater.
"I turned it on to make sure it was working because we have prayer here every morning at 9 o'clock," Magee said.
The church, built in the mid-1890s, is located along a street that was listed on the National Register of Historic Places in 2009. The church became an African-American congregation in the 1920s.