This is an archived article and the information in the article may be outdated. Please look at the time stamp on the story to see when it was last updated.
Firefighters on Monday morning were battling a house fire in the Lincoln Heights neighborhood of Los Angeles.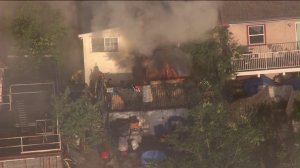 The blaze was reported about 6:40 a.m. in the 2300 block of Coral Street.
Aerial video showed flames emanating from what appeared to be a shed on a balcony outside the home.
A handful of firefighters were seen on the roof of the house.
No other information was immediately available.
Correction: An earlier version of this report misstated the neighborhood where the fire occurred. The article has been updated to reflect the change.