This is an archived article and the information in the article may be outdated. Please look at the time stamp on the story to see when it was last updated.
The first California condor cam took flight in Big Sur Monday, allowing the public and scientists a glimpse of the endangered bird in the wild.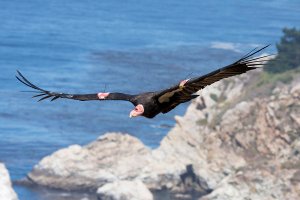 The solar-powered webcam, installed by the Oakland Zoo and Ventana Wildlife Society, is the first to monitor the largest North American land bird in the wild and will aid preservation efforts, according to the society.
But viewers beware. Listed below the live stream is a message for visitors: "Viewer discretion advised. May contain graphic feeding images." Several times a week biologists put stillborn calves out for the birds to feed on. A camera stream of tumbling panda cubs this is not.
"We put the camera right on top of one of the main feeding areas so we could zoom down and get identification of each individual," Kelly Sorenson, executive director of the Ventana Wildlife Society,  told the San Jose Mercury News.
Click here to read the full story on LATimes.com.