This is an archived article and the information in the article may be outdated. Please look at the time stamp on the story to see when it was last updated.
Riverside and Orange County officers and deputies hit the gridiron Saturday to raise money for a police officer who was shot and left critically injured by Christopher Dorner.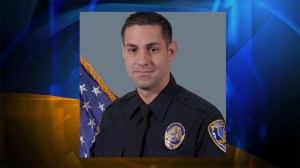 The fourth annual women's flag football charity games got underway at 12 p.m. at Eddie West Field in Santa Ana.
The Orange County Sheriff's Department's "All Stars," Santa Ana Police Department's "Hogs," Riverside Police Department "Pistols," and Orange County probation "Grid Iron Girls" faced off in front of a crowd of 200 people, according to Tammy Ford, who organized the event.
"This is probably our best turnout yet in the four years that we've done this," Ford said.
Tickets to the event cost $5 ticket with proceeds going toward the recovery of Riverside police Officer Andrew Tachias.
Tachias was one of two officers shot multiple times in a February 2013 ambush by Dorner, a former Los Angeles police officer who went on a killing rampage before dying in a shootout in a cabin near Big Bear. His training officer, Michael Crain, was killed.
"It's very warming and comforting that so many people and so many agencies haven't forgotten about what happened and care about all the officers that have been injured or killed in the line of duty," Tachias said.
KTLA's Chip Yost contributed to this report.