This is an archived article and the information in the article may be outdated. Please look at the time stamp on the story to see when it was last updated.
PALMDALE, Calif. — Powerful thunderstorms pounded mountain and desert areas of Southern California on Monday, dropping steady amounts of rain.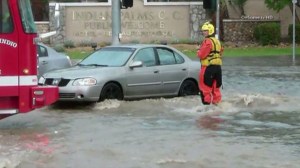 The storms, sparked by moist air from the remnants of Tropical Storm Ivo, were reported from the Antelope Valley in Los Angeles County to the desert areas of San Bernardino and Riverside counties, officials said.
At the Acton pump station in the Antelope Valley, 2.56 inches of rain was reported in a 60-minute span  Monday afternoon, according to the National Weather Service.
"That's a lot of rain," said Scott Sukup, a meteorologist with Weather Service's Oxnard office.
Click here to read more at LATimes.com.