This is an archived article and the information in the article may be outdated. Please look at the time stamp on the story to see when it was last updated.
A flood warning was in effect Thursday afternoon for northwestern Riverside and southwestern San Bernardino counties, which were being hit with heavy rain, the National Weather Service said.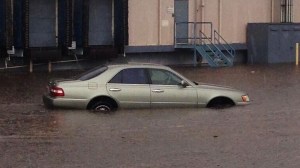 In valley areas of those two counties and inland San Diego County, a flash flood watch was set to be in effect until 10 p.m.
The weather service warned drivers not to enter areas where water was surging onto roadways, and it said that the California Highway Patrol had reported several vehicles stranded.
"This is a dangerous situation and flooding is likely to continue through at least 6 p.m.," the weather service stated, referring to the Riverside city area.
Some 10,000 people were without power in the Riverside at the height of the storm, according to city spokesman Phil Pitchford. By about 5:30 p.m., power had been restored to 5,400 customers, but full restoration was not expected until Friday.
A KTLA viewer sent in an image of a car stuck in a Riverside roadway on Thursday afternoon. Elsewhere on social media, area residents posted images and video of trees down and heavy storms.
In the San Bernardino County mountain community of Forest Falls, a river of mud and water swept through an area near town, video sent to KTLA showed.
And video posted to the Riverside Press-Enterprise's website showed heavy rain lashing the region, as seen below.
Riverside City College announced on Twitter that classes were cancelled, and it posted images of flooding on its Facebook page.
In Los Angeles and Ventura counties, Thursday was expected to be the hottest day of a warm and humid period, according to the service. The heat index could approach critical levels, the service warned.
The L.A. County mountains and the Antelope Valley could see thunderstorms late Thursday as a wave of "monsoonal moisture" comes into the area Thursday evening. The moisture surge was expected to cool the area a bit on Friday.