This is an archived article and the information in the article may be outdated. Please look at the time stamp on the story to see when it was last updated.
LOS ANGELES (KTLA) — A former USC professor arrested in Mexico on suspicion of sex crimes against children was extradited back to Los Angeles on Wednesday.
Walter Lee Williams, 64, was taken into custody on Tuesday by Mexican authorities in the resort town of Playa del Carmen.
His arrest came one day after he was added to the FBI's Ten Most Wanted list.
Williams is charged with the sexual exploitation of children, traveling with intent to engage in illicit sexual conduct and engaging in illicit sexual conduct in foreign places.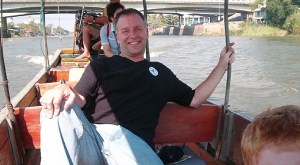 He arrived at LAX on Wednesday night, escorted by FBI agents.
At least 10 alleged victims between the ages of 9 and 17 were identified by authorities, but that number was expected to grow, FBI officials said.
Many of the alleged victims live in developing nations.
Williams has an extensive travel history in Southeast Asia, specifically the Philippines, Indonesia, Polynesia and Thailand, FBI Assistant Director Bill Lewis said.
A four-count federal indictment filed on April 30 alleged that he traveled to the Philippines in January 2011 to engage in sex acts with two 14-year-old boys he met online.
Prior to his trip, Williams allegedly engaged in sexual activity via Internet webcam sessions with the boys.
He expressed a desire to visit them in the Philippines to have sex, according to the FBI.
While in the Philippines, he allegedly engaged in sex acts with the boys and produced photos of the encounters, which he brought back to Los Angeles.
Williams fled the Los Angeles area after he was questioned by agents, FBI spokeswoman Laura Eimiller said.
Williams had previously taught anthropology, gender studies and history at USC.
He is a Fulbright award winner, and received the USC General Education Outstanding Teacher Award in 2006.
He was also recognized for his work with the gay and lesbian community.
Williams left USC in February 2011, according to a statement issued by the university on Monday.
"USC is fully cooperating with the FBI investigation," the statement said.
"The FBI has informed us at this time that there is no evidence that any of his alleged illegal activities were associated with the university or took place on campus," it also said.