This is an archived article and the information in the article may be outdated. Please look at the time stamp on the story to see when it was last updated.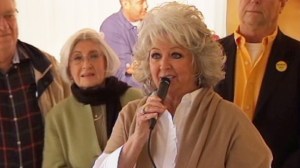 Paula Deen was dropped Monday by longtime sponsor, Smithfield Foods, following her admission in a lawsuit deposition to using a racial slur in the past.
The deposition was part of a suit filed by Lisa T. Jackson, a former general manager of one of Deen's Georgia restaurants, for sexual and racial harassment while working for Deen and her brother Bubba Hiers.
The announcement was another blow for the 66-year-old cooking personality, coming just days after the Food Network decided not to renew her contract.
Keira Lombardo, the Vice President of Investor Relations and Corporate Communications of Smithfield Foods, released this statement:
"Smithfield condemns the use of offensive and discriminatory language and behavior of any kind. Therefore, we are terminating our partnership with Paula Deen. Smithfield is determined to be an ethical food industry leader and it is important that our values and those of our spokespeople are properly aligned."
Deen was also a regular guest on QVC's show Paula Deen's Kitchen, which sells the star's collection of cookbooks and cookware.
On Monday QVC announced the company was, "reviewing our business relationship with Ms. Deen, and in the meantime, we have no immediate plans to have her appear on QVC."