This is an archived article and the information in the article may be outdated. Please look at the time stamp on the story to see when it was last updated.
Think twice before making the F-250 your next workhorse: Ford's Super Duty truck has the highest theft rate among all vehicles manufactured between 2010 and 2012.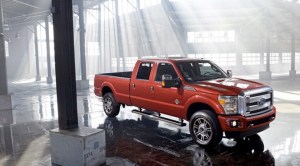 The Cadillac Escalade held the throne since 2003, but researchers from the Highway Loss Data Institute said the change might be due to the SUV's waning popularity as much as its newer antitheft technology.
Some of those heightened security advancements, most notably the installation of ignition immobilizers, could also be the reason theft rates in general have fallen recently. This particular feature is less common in pickups, which as a group tend to be stolen more often.
But the F-250 became the most stolen vehicle despite ignition immobilizers installed on 2010 to 2012 models.
Click here to read the full story at LATimes.com.