This is an archived article and the information in the article may be outdated. Please look at the time stamp on the story to see when it was last updated.
Robert A. Rizzo, the former Bell city administrator who oversaw an era of corruption, pleaded guilty Monday to two federal tax charges.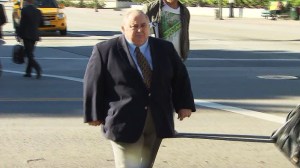 [Updated 12:20 p.m. PST Jan. 13: Dressed in a blue blazer and gray slacks, Rizzo repeatedly said "Yes, your honor," as he agreed to plead guilty to filing a false tax return and conspiring to file a false tax return.
Rizzo, who already faces a potential 12-year sentence on corruption charges, could get up to eight years in federal prison and a $500,000 fine on the tax case.]
The tax case alleged that he further inflated his take-home pay by claiming more than $770,000 in bogus losses on his tax returns.
Click here to read the full story on LATimes.com.