This is an archived article and the information in the article may be outdated. Please look at the time stamp on the story to see when it was last updated.
London (CNN) — A day after the death of Margaret Thatcher, Britain's first female prime minister, preparations got under way for a funeral to rival those given to royalty — a farewell welcomed by some in Britain but questioned by others.
The news of her death, which prompted an outpouring of reaction from UK and world leaders, dominated British newspapers Tuesday.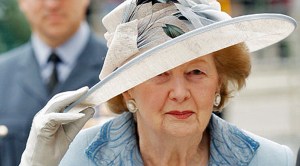 Pages of tributes and analysis throw up a raft of descriptions: brave, great, fearless, pioneering — but also divisive, destructive and uncaring.
"The woman who saved Britain," is the Daily Mail headline. "Now give her a state funeral," it demands inside the covers, citing Conservative MPs who say she deserves the kind of honors in death usually reserved for a monarch.
"The woman who divided a nation," is how the Daily Mirror remembers her. It questions whether Thatcher merits the same "ceremonial" style of funeral as Diana, Princess of Wales, and the Queen Mother.
Opposition to Thatcher being accorded the same honors as might be given to the queen one day is being galvanized on Twitter through the hashtag #nostatefuneral. An online petition opposing a state funeral has also picked up more than 25,000 signatures.
A towering figure in postwar British and global politics, Thatcher is remembered in the world for her Cold War-era friendships with U.S. President Ronald Reagan and Soviet leader Mikhail Gorbachev, as well as her role in shaping Britain's place in Europe and the short, sharp war she waged with Argentina over the disputed Falkland Islands.
At home, where many blame her for creating soaring unemployment as she reduced or eliminated many government subsidies to business and took on the unions, her legacy is highly polarized.
Thatcher's body was moved overnight from the Ritz Hotel, where she was staying when she died of a stroke at age 87, her spokeswoman confirmed. It's not known where it was taken.
Thatcher served from 1975 to 1990 as leader of the Conservative Party, and as prime minister for 11 years. She was called the "Iron Lady" for her personal and political toughness.
Her funeral will be Wednesday, April 17, the prime minister's office said Tuesday.
Queen Elizabeth II will be among the high-profile guests, Buckingham Palace said Tuesday. Prime Minister David Cameron and Deputy Prime Minister Nick Clegg will also be there.
Prince William and his wife, Catherine, who's expecting their first child, will not attend the funeral; nor will Prince Harry, Prince Charles and his wife, Camilla, Buckingham Palace said.
The service will be at St. Paul's Cathedral, with full military honors, followed by a private cremation, the British prime minister's office announced.
A diverse range of people and groups with connections to Thatcher will be invited, Downing Street said. The service will also be televised.
Crowds are expected to line the streets between the Palace of Westminster — where her coffin will be brought on the eve of the funeral to lie in a chapel — and St. Paul's Cathedral.
On the day of the funeral, the coffin will travel by hearse from Westminster to a Royal Air Force chapel, where it will be transferred to a gun carriage drawn by the King's Troop Royal Artillery.
From there, it will be taken in procession to St. Paul's Cathedral along a route lined by servicemen and women from the army, Royal Navy and Royal Air Force.
The coffin will be greeted at Sir Christopher Wren's landmark domed cathedral by a guard of honor, with military personnel and veterans lining the steps.
Inside will wait family and friends of Thatcher, as well as many of those who worked with her in government and elsewhere.
The funeral is being organized in line with the wishes of her family, Downing Street said. They include her twin children, Mark and Carol.
'Transformative leader'
Tributes — and some criticism — flooded in Monday from around the world.
U.S. President Barack Obama said the world had "lost one of the great champions of freedom and liberty" and the United States had lost "a true friend."
"As a grocer's daughter who rose to become Britain's first female prime minister, she stands as an example to our daughters that there is no glass ceiling that can't be shattered," he said.
U.S. Secretary of State John Kerry said the world had "lost a transformative leader who broke the glass ceiling in global politics" and "defined grit on the world stage."
"Margaret Thatcher took a country that was on its knees and made Britain stand tall again," said Cameron, who leads today's Conservative Party. He also described her as a "patriot prime minister" with a "lion-hearted love" for her country.
Former British Prime Minister Tony Blair, who led the opposition Labour Party in government from 1997 to 2007, said Thatcher was a "towering political figure" who would be greatly missed.
"Very few leaders get to change not only the political landscape of their country but of the world. Margaret was such a leader. Her global impact was vast," he said.
Former U.S. President George H.W. Bush — whose first years in the White House overlapped with the end of Thatcher's time as prime minister, but who served as vice president at the height of her power and influence — called her one of the "fiercest advocates of freedom and free markets."
And former U.S. Secretary of State Henry Kissinger told CNN that Thatcher was a "tremendous prime minister" and a "great lady."
But Northern Ireland politician and Minn Fein leader Gerry Adams gave a very different view of Thatcher's legacy.
"Margaret Thatcher did great hurt to the Irish and British people during her time as British prime minister," he said. "Working class communities were devastated in Britain because of her policies."
She will be remembered in particular for "her shameful role during the epic hunger strikes of 1980 and 81" in Northern Ireland, and her Irish policy "failed miserably," he concluded.
South Africa's governing African National Congress recognized Thatcher's enduring influence but pointed out that she got it wrong on apartheid. Thatcher infamously dismissed Nelson Mandela's ANC as a terrorist organization.
The party "was on the receiving end of her policy in terms of refusing to recognize the ANC as the representatives of South Africans, and her failure to isolate apartheid after it had been described as a crime against humanity," the ANC statement said. "However we acknowledge that she was one of the strong leaders in Britain and Europe."
'A great destroyer'
Officials in the Falkland Islands said they would never forget Thatcher's decision to defend the South Atlantic territory in 1982.
"Her friendship and support will be sorely missed, and we will always be thankful for all that she did for us," said Mike Summers of the Falkland Islands Legislative Assembly.
The United Kingdom and Argentina went to war over the territory in 1982 after the then-military government in Argentina landed troops on the islands. Argentina put its death toll from the conflict at around 645. Britain says its civil and military losses amounted to 255.
Over the past year or more, rhetoric between the two countries over the islands has escalated sharply, and Argentina's state-run Telam news agency offered an unflinching look Monday at the South American country's take on Thatcher's legacy.
Articles described her as "a symbol of war," "an expression of inequality" and "a great destroyer."
For British filmmaker Ken Loach, known for his gritty social critiques, Thatcher was "the most divisive and destructive Prime Minister of modern times."
"Mass unemployment, factory closures, communities destroyed — this is her legacy. She was a fighter and her enemy was the British working class," he said.
"Her victories were aided by the politically corrupt leaders of the Labour Party and of many trades unions. It is because of policies begun by her that we are in this mess today."
Her final years
Thatcher was ultimately brought down, not by British voters, but by her own Conservative Party.
Having lost much support over her policy on Europe, Thatcher was finally forced to resign in 1990 during an internal leadership struggle after she introduced an unpopular tax that led to rioting in the streets.
Despite her painful exit, she remained involved in British politics for the next decade or so. She was named Baroness Thatcher of Kesteven after leaving office and served in the House of Lords.
Her wider influence on policy and politicians continues to this day.
She retired from public life after a stroke in 2002 and suffered several smaller strokes after that. Her husband, Denis, died in June 2003.