This is an archived article and the information in the article may be outdated. Please look at the time stamp on the story to see when it was last updated.
The U.S. Department of Agriculture suspended operations at a Foster Farms poultry plant Wednesday because of a cockroach infestation.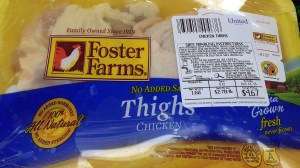 The plant, which is located in Livingston, Calif., 25 miles southeast of Modesto, was one of three Foster Farms facilities linked to a salmonella outbreak that has sickened at least 416 people nationwide since last March.
"Our inspectors wrote several noncompliance reports for insanitary conditions at the plant and then took the action to suspend today," Adam Tarr, a spokesman for the USDA's Food Safety and Inspection Service, said in an email Wednesday.
The Livingston plant, as well as two other processing facilities in Fresno, was threatened with closure last October because of unsanitary conditions.
Click here to read the full story on LATimes.com.