This is an archived article and the information in the article may be outdated. Please look at the time stamp on the story to see when it was last updated.
An investigation was underway Monday in Santa Fe Springs to determine what was causing a foul odor that prompted hundreds of complaints, officials said.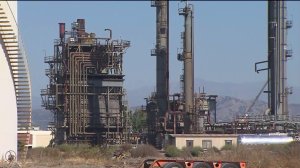 Hundreds of people called 911 over the weekend to report what they said smelled like "rotten eggs," according to the Los Angeles County Sheriff's Department.
"I just know that it smells terrible. It makes me nauseous at times. It makes a lot of us nauseous," nearby resident Nancy Oliverio said.
Many residents believe a company called Ridge Line Energy Services is to blame.
The company owns an old oil refinery and cleans industrial wastewaster in tanks, which may be causing the smell.
Inspectors from the South Coast Air Quality Management District were investigating the smell, which residents said can't be cleaned up soon enough.
"Come around midnight each night now, sometimes lasting one to three hours. It's unbearable," Wayne Menuier said.