This is an archived article and the information in the article may be outdated. Please look at the time stamp on the story to see when it was last updated.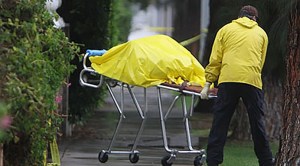 NORTHRIDGE, Calif. (KTLA) — Police are investigating an early morning shooting in Northridge that left two men and two women dead.
The shooting was reported around 4:25 a.m. Sunday in the 17400 block of Devonshire Street.
According to LAPD Commander Andrew Smith, four people were found shot to death outside a boarding home.
Three of the bodies were face-down, and the victims appeared to have been shot at a close range, authorities said.
Officers searched the property and neighborhood immediately after the shooting, but no weapon was found, Smith said.
Police have not identified a motive for the shootings, but they believe the deaths were not random.
The victims have not been identified. The female victims were in their 20s, one man was in his mid-30s and the other in his late-40s, officials said.
Police say some of the victims lived at the residence and may have been related.
L.A. City Councilman Mitchell Englander, who represents the area and is a reserve LAPD officer, said the property was an unlicensed boarding home.
Mattresses and makeshift kitchens were scattered around the house, he said, and one room was only accessible through a window.
But, Englander said, the home had not been a problem location for police.
According to neighbors, the rooms appeared to be rented out to single men who mostly kept to themselves.