This is an archived article and the information in the article may be outdated. Please look at the time stamp on the story to see when it was last updated.
It was a hero's welcome Thursday in Riverside as four soldiers who survived unimaginable experiences in the jungles of Vietnam were reunited for the first time in more than 40 years.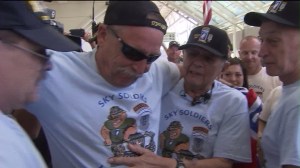 The soldiers were members of the Army's 173rd Airborne Brigade Reconnaissance Platoon; a four-man unit searching for prisoners of war in Vietnam's Tiger Mountains.
It was during one of those missions that one of their own was gravely wounded.
The men were airlifted to safety and all survived. But they never saw each other again.
They were bound for life by their experiences in the war, but a twist of fate would separate them for the next 44 years.
They lost touch, they said, because they didn't know each others full names — just nicknames.
This day may never have come if not for the internet, social media and one relentless man who made it his mission to reunite his father-in-law with his buddies.
Chris Wolfe reports from Riverside for the KTLA 5 News at 6 on Thursday, April 24, 2014.