This is an archived article and the information in the article may be outdated. Please look at the time stamp on the story to see when it was last updated.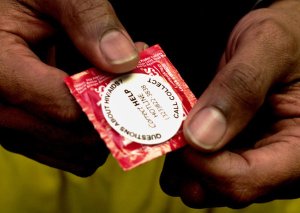 In the midst of an ongoing moratorium on shooting in the adult film industry, an advocacy group said a fourth performer has come forward as HIV-positive.
The Free Speech Coalition, an adult industry trade group, called a filming moratorium Friday — the second in a month — after a performer tested positive for HIV. The group called a weeklong moratorium last month after actress Cameron Bay tested HIV-positive.
A second performer, Rod Daily, who is romantically linked to Bay, came forward on Twitter and told the Los Angeles Daily News that he too had tested positive — but that case was not officially reported to the industry group and did not result in a new moratorium. Friday's call to stop shooting came after a third performer tested positive and was reported to the Free Speech Coalition by an industry-affiliated doctor.
Michael Weinstein, president of the AIDS Healthcare Foundation — a group that backed a voter-approved mandate to use condoms in filming in Los Angeles County last year and is now pushing for a statewide requirement — said a fourth adult film performer contacted his group in the last week.
Click here to read full story on LATimes.com.