This is an archived article and the information in the article may be outdated. Please look at the time stamp on the story to see when it was last updated.
Grief counselors were on hand Monday morning at Palmdale High School, the day after a 16-year-old student was killed when a suspected drunk driver crashed into her family's apartment.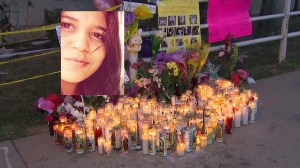 Giselle Mendoza was sleeping in her bedroom at the time of the incident, which occurred shortly before 3:50 a.m. Sunday in the 1000 block of East Avenue R (map), authorities said.
The driver of an SUV was taken into custody at the scene and was later booked for driving under the influence and vehicular manslaughter, according to the Los Angeles County Sheriff's Department.
Deputies said neighbors restrained the driver before they arrived.
"The look on his face was emotionless, and like, oh thanks for helping me," witness James Fisher-King said. "I said, 'I'm not helping you, do you know what's going on here?'"
The driver attempted to flee the area, according to some neighbors.
"He was trying to get away, you know, so they held him down and told him he wasn't going anywhere," neighbor Melinda Barris said.
The suspect, 20-year-old Roberto Rodriguez, was released Sunday evening after posting $100,000 bail.
No charges had been filed as of Monday, according to a spokesman for the Los Angeles County District Attorney's Office. Rodriguez was not expected to appear in court until May 20, the spokesman said.
"This situation defines the word 'senseless,'" said Matt Anderson, principal of Palmdale High, where Mendoza was a sophomore. "What we've got to do is meet the needs of any of our students that need to talk with somebody, along with any of our staff members."
Counselors and psychologists were available to meet with students and staff in a group setting or individually, Anderson said.
Several of Mendoza's classmates gathered outside her home on Sunday and helped erect a makeshift memorial.
"I don't know what to think," said Frances Fuller, a friend of the victim. "She thought she was somewhere safe — in bed."
In an interview, Mendoza's older sister pleaded with drivers to avoid driving under the influence.
"I just want … all the people who drink and drive to stop doing it," said Yadira Mendoza, choking back tears. "It's just causing pain for families. They are losing their family members."
A carwash meant to raise funds for Mendoza's funeral costs was to be held at her apartment on Saturday.
KTLA's Kareen Wynter, Kacey Montoya and Mary Beth McDade contributed to this article.