This is an archived article and the information in the article may be outdated. Please look at the time stamp on the story to see when it was last updated.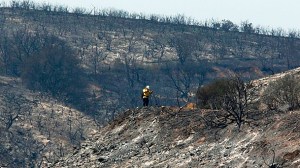 NEWBURY PARK, Calif. (KTLA) — The Springs Fire in Ventura County was 90 percent contained Tuesday morning, officials said.
It was expected to be completely under control by the end of the day, according to the California Department of Forestry and Fire Protection.
The blaze began off the 101 Freeway near Thousand Oaks last Thursday and scorched a path to the ocean, burning decades-old brush around Point Mugu State Park.
It charred 28,000 acres and damaged 15 homes, forcing hundreds to evacuate as firefighters battled the fast-moving flames.
At its peak, the fire threatened about 4,000 homes. More than 1,800 fire personnel battled the blaze.
The fire was fueled by a combination of hot, dry conditions and strong Santa Ana winds.
A dramatic change in the weather over the weekend, which saw showers and cooler temperatures, helped fire crews gain the upper hand.
The cause of the fire remains under investigation, but officials said on Sunday that they had ruled out arson.
Instead, they believed the blaze was started by a small "undetermined roadside ignition of grass/debris."
Eight firefighters and at least one civilian suffered minor injuries. The cost of fighting the fire was estimated at $10 million.