This is an archived article and the information in the article may be outdated. Please look at the time stamp on the story to see when it was last updated.
The Fullerton Police Department is looking for information regarding two sexual battery suspects, it said Wednesday.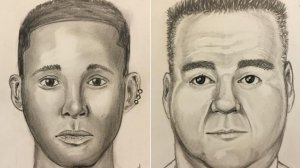 The men are suspected in separate crimes that appear to be unrelated.
The most recent incident occurred around 1:15 p.m. on Sept. 7. A 20-year-old woman reported she was sexually battered from behind while inside a store on the 1700 block of West Orangethorpe Avenue where her mother works as a cashier.
Witnesses said the man is a regular at the store and was with his sister at the time.
Police said the suspect is a Hispanic male in his mid-30s or or -40s, with short black hair and brown eyes, police said. The man was reported to be 5'8 tall and around 180 pounds wearing a blue, button-down shirt with short sleeves and Dockers pants.
The woman he was with was described as Hispanic with long black hair in a side ponytail wearing a flower-print dress.
A second sexual battery occurred on Aug. 6 at about 6 p.m., authorities said, when a woman was walking her dog near the intersection of Catlin and Sheddon streets.
According to police the male suspect approached her from behind, grabbed her and pushed himself onto her. He then calmly walked away when the victim started yelling, they said.
The suspect is described as a clean-shaven black male in his 20s with short hair and three gold-stud earrings, about 5'09" tall and of medium build.
Anyone with information about the crimes is asked to contact Fullerton Police at 714-738-6754.