This is an archived article and the information in the article may be outdated. Please look at the time stamp on the story to see when it was last updated.
As an Army Honor Guard carried his remains into an Inglewood church, Sergeant 1st Class Joseph Gantt's 94-year-old widow could be seen somberly walking behind his flag-draped casket.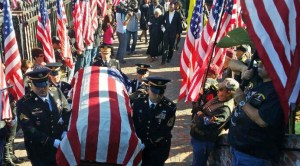 Mrs. Clara Gantt and hundreds of other mourners gathered at The Dwelling Place Foursquare Church Saturday in Inglewood, to pay their final respects to the fallen POW.
Sgt. Gantt's remains were returned to his family earlier this month, 63 years after the former POW was captured during the Korean War.
He was born in Maryland in 1924, and  joined the Army in 1942, according to a press release from the USO Greater Los Angeles.
Gantt met Clara Edwards, his wife-to-be, in 1946 while riding a train to California, the Los Angeles Times reported.
He was taken Prisoner of War on Dec. 1, 1950, the USO said.
Gantt was presumed dead.  But his wife held out hope and never remarried.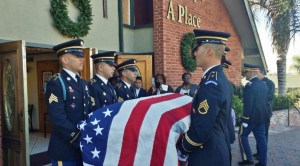 After more than six decades, Sgt. Gantt's remains were identified and flown to Los Angeles International Airport on December 20.
Mrs. Gantt was photographed on the tarmac, as she waited for the casket with tears in her eyes.
She sobbed uncontrollably when her late husband's remains were taken off the plane.
Sgt. Gantt was posthumously awarded the Bronze Star Medal for his combat leadership and heroic actions on Dec. 1, according to the USO.
His funeral was held Saturday at 11 a.m. and ended an hour later with the Honor Guard escorting his casket to an awaiting hearse.
A large group of veterans attended the funeral. Among them was Solomon Jamerson, who served with Gantt in Korea.
"General Douglas MacArthur said, 'I'll have you home by Christmas,'" Jamerson said. "And this Christmas, [Gantt] returned home."
Several veterans held flags and formed a protective ring around the hearse.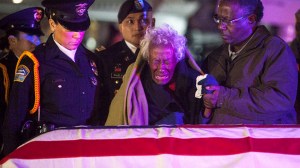 Sgt. Gantt was laid to rest with a gun salute and full military honors at Inglewood Park Cemetery.
"I wish it could've been earlier, but it's one of those things," Mrs. Gantt said Saturday. "I just prayed to the Lord to let me live long enough to receive the closure. So he did."