This is an archived article and the information in the article may be outdated. Please look at the time stamp on the story to see when it was last updated.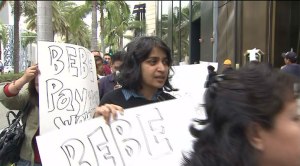 BEVERLY HILLS (KTLA) — Protestors swarmed Rodeo Drive Wednesday, demanding money for garment workers who reportedly weren't paid for making clothes for retailer Bebe.
The demonstrators claimed that Bebe owes them tens of thousands of dollars in unpaid wages. They accuse Bebe — which has a store on Rodeo Drive — of wage theft.
"Not paying someone for their service, for their hard work is a crime — it's robbing somebody of their salary," the Garment Workers Center's Marissa Nuncio said into a bullhorn.
Nuncio said the demonstrators work for a clothing manufacturer in downtown Los Angeles for the Bebe label. That factory shut down and reportedly failed to pay dozens of workers for as long as a month and a half, owning them more than $50,000.
"Under California law, a manufacturer and retailer like Bebe is responsible, just as a factory owner is for seeing that workers are paid legal and just wages," Nuncio said.
Protestors presented a letter intended for the Bebe CEO, asking for immediate payment.
The demonstration shines a light on the bigger picture of wage theft, which, according to a UCLA study, is more of a problem in Los Angeles than any other major U.S. city.
Activists say labor laws are in place but aren't properly enforced.
Calls to Bebe's corporate communications office seeking a statement were not returned.