This is an archived article and the information in the article may be outdated. Please look at the time stamp on the story to see when it was last updated.
The plight of the Lyubov Orlova has grabbed the imagination of the media with its tale of cannibal rats" aboard an abandoned vessel drifting in the north Atlantic — possibly toward the U.K.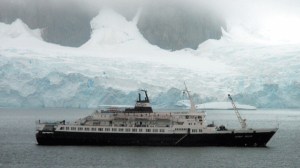 On Thursday, reports surfaced that high winds could be pushing the vessel and its rats toward the shore of western Ireland, Scotland or the southern tip of England.
If it weren't for the starving rodents believed to be feeding on one another on the craft, the story of this cruise vessel turned ghost ship could have an aura of romance.
What is the Lyubov Orlova? It's a Yugoslavian-built cruise ship that bears the name of a beloved 1930s star of Russian cinema, Lyubov Petrovna Orlova. Stalin in 1934 dubbed her the "honorable actor" of the Russian Federation.
Click here to read the full L.A. Times story.