This is an archived article and the information in the article may be outdated. Please look at the time stamp on the story to see when it was last updated.
A 12-year-old girl died, her mother and brother were hospitalized and a Santa Ana man was arrested after a short police pursuit in Westminster Thursday night ended in a crash, according to police.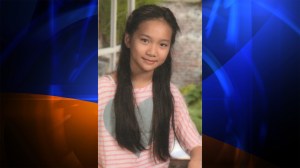 Officers attempted to stop a man who was wanted for alleged weapons violations and narcotics trafficking around 6 p.m. near Sigler Park (map), a Westminster Police Department press release stated. The man then purposefully crashed into a marked patrol vehicle and fled, the release stated.
The man, identified as Aleksander Apostoloic, 26, fled on foot when his black Chevrolet Suburban overturned after he attempted to make a left turn on Olive Street and Trask Avenue (map) and broadsided a minivan, then crashed into another vehicle, according to the release.
The pursuit lasted just two to three blocks, police Sgt. Cameron Knauerhaze said.
A mother and her two children were in the minivan. All three were transported to a local hospital where one of the children later died, the release stated.
The Orange County coroner identified the girl as Vivian Nguyen.
The mother and her 13-year-old son were in critical but stable condition, Knauerhaze said.
One police officer was transported to a local hospital for minor injuries and was released.
A yard-to-yard search for Apostoloic was conducted by the Westminster police, a police K-9 from the Cypress Police Department and a Huntington Beach police helicopter.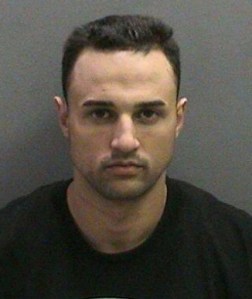 Apostoloic was found around 11:55 p.m. when a resident near Chestnut Street and Brooklawn Drive (map) reported that an unknown male was inside her home and had fled out the back door.
An Anaheim police helicopter was in the area and located Apostoloic hiding in a rear yard.
Westminster police detained Apostoloic after locating him with a heat sensor and took him to a local hospital for evaluation of injuries sustained in the crash.
Apostoloic was expected to be charged with murder, assault with a deadly weapon, felony evasion and previous warrants for weapon violations and narcotics trafficking, the release stated.
Immediately following the crash, neighbors tried to help the victims, neighbor Robert Ramirez said.
"It was loud, a lot of screeching after. Right away, a lot of people came out," he said. "I wanted to help them, but I couldn't."
Counselors were scheduled to go door to door to help neighbors facing post traumatic stress, Knauerhaze said.
"This is a very quiet neighborhood and a lot of people haven't seen anything like this before and we're very mindful of that and we want to let them know that we care and provide them resources to heal," Knauerhaze said.
Counselors were also expected to be at Johnson Middle School in Westminster, where Nguyen was a student.
"This is a heartbreaking loss for our school and community," said Principal Andre Illig in a statement. "Our thoughts and prayers are with the family."
KTLA's Chip Yost contributed to this article.