This is an archived article and the information in the article may be outdated. Please look at the time stamp on the story to see when it was last updated.
ARCADIA, Calif. (KTLA) — A man arrested for allegedly trying to abduct a 6-year-old girl from a park in Arcadia was expected to appear in court on Tuesday.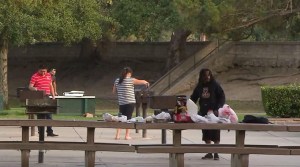 It happened around 3:30 p.m. on Saturday at Arcadia Park on South Santa Anita Avenue, according to the Los Angeles County Sheriff's Department.
The girl was playing with friends in a picnic area when a man allegedly grabbed her by the hand and began dragging her out of the park.
The girl managed to free herself and ran to her mother, who called 911.
Jason Macklin Dell, 33, described by authorities as a transient, was arrested on suspicion of kidnapping and child annoyance.
He was being held on $400,000 bail.
"It  kind of floored us to know that something like that happened here," resident Gabby Hernandez said.
"It's really making me scared, so I have to take care of my daughter more carefully," Temple City resident Qianliqui Pelaez said.